Find the best cheesecake topping ideas all in one complete resource! You will find everything from the easy toppings to serve with cheesecake to unique and gourmet sauces perfect for holidays and company!
Best cheesecake toppings
Cool and creamy cheesecake with buttery graham cracker crust always delivers. It's hard to resist the tangy sweetness of cream cheese filling topped with everything from fruit sauce, candy bars, melted chocolate, fresh fruit slices to a simple dollop of whipped cream.
Whether serving your favorite cheesecake recipe, gluten-free cheesecake, no-bake cheesecake, a holiday favorite, like pumpkin cheesecake with pecan crust, or jazzing up a store-bought frozen dessert, it's hard to choose a favorite cheesecake topping.
Below are not only the best toppings for cheesecake, but classics that don't require any effort. They compliment the smooth texture and flavor, making every bite irresistible!
Reese's peanut butter cups
Fresh fruit or berries, like raspberries, blackberries, blueberries, strawberries, peaches
Chopped candy bars, like Snickers, Heath, Butterfingers
Whipped cream or Cool Whip, dolloped on or decoratively placed with a piping bag
Chocolate shavings
Oreo cookies, crushed
Canned pie filling, like cherry pie filling or apple pie filling
Fruit jam, slightly warmed
Chocolate chips
Chocolate syrup
Fruit sauces, like strawberry syrup or raspberry sauce
Caramel
Toffee bits
Unique and gourmet toppings
Cheesecake factory has nothing on these gourmet cheesecake toppings. Most are ready-made and don't require any extra effort! They would make great additions to a cheesecake bar or add an unique flavor twist.
Crushed Biscoff cookies
Marshmallow fluff
Nutella, slightly warmed
Cookie butter
Edible cookie dough
Lemon curd
Chocolate-dipped strawberries
Granola
Fried apples
Grilled fruit, like pineapple, nectarines or peaches
Easy cheesecake sauces
Much like angel food cake toppings, there are variety of sauces to smother on sliced cheesecake. For easy fruit cheesecake toppings, look to store-bought ice cream toppings or canned pie fillings.
Also, many jellies and jams can be turned into a sauce by warming slightly and pouring on.
If you are preparing a homemade fruit sauce or compote, cool to room temperature and chill separately from the cheesecake. Drizzle over before serving.
Peanut butter sauce
Hot fudge
Blueberry compote
Caramel sauce
Chocolate syrup
Pineapple topping
Raspberry sauce
pro tips for serving toppings with cheesecake
It's hard to choose which cheesecake topping is best, so why stop at one? Set up a cheesecake toppings bar and guests can choose their favorites or make combinations.
Store the cheesecake separate from the toppings until ready to serve.
When serving warm toppings, such as salted caramel sauce or hot fudge, let it cool slightly before drizzling on.
If fruit sauces are too thin, mix together 1 tablespoon cornstarch with 1 tablespoon water and stir into the simmering sauce until thickened.
To cut the sweetness of a fruit sauce or compote, add a squeeze of fresh lemon juice.
Homemade whipped cream will stay stable, refrigerated, up to 1 day.
faqs about cheesecake
What types of cheesecake are there?
There are practically as many types of cheesecake as toppings! Choose from New York-style, Italian cheesecake with ricotta, sour cream, no-bake, Basque, Japanese, mini cheesecakes, and not to mention endless flavors, like pumpkin, chocolate, key lime and more!
How long can cheesecake sit out?
Cheesecake can sit out 2-4 hours, depending on the temperature of the room.
What is the best way to store leftover cheesecake?
Cover and refrigerate homemade or store-bought cheesecake up to 4 days. To maintain the best flavor, make sure it is well wrapped or covered in an airtight container.
Can cheesecake be frozen?
Yes, cheesecake may be frozen up to 2 months. For best results, place the cheesecake on a baking tray and freeze until solid. Remove and wrap securely with plastic wrap, then a layer of foil. Thaw overnight in the refrigerator before serving.
Click here to
see a web story slideshow of the recipes!
more cheesecake topping ideas
Old fashioned hot fudge sauce recipe uses a handful of simple ingredients like Hershey's cocoa powder, sugar, butter, and milk. Drizzle this homemade, thick and chewy hot fudge over an ice cream sundae for the perfect dessert!
Get The Recipe
Easy blueberry syrup takes only 4 simple ingredients and 10 minutes. This healthy blueberry syrup recipe is naturally sweetened with maple syrup, so there is no added sugar. Top pancakes, waffles, cheesecakes, ice cream and more with this fruity, homemade syrup!
Get The Recipe
Chocolate whipped cream frosting recipe is light and fluffy, yet sturdy and stabilized enough to pipe on cupcakes or cakes. Easy chocolate whipped cream with cocoa powder pairs perfectly with any flavor of cake, such as angel food, white, chocolate, or banana cake.
Get The Recipe
Easy Candied Pecans come together in only 5 minutes on your stove top! Learn how to candy pecans quickly with only brown sugar, maple syrup, and salt.
Get The Recipe
Easy, five minute peanut butter glaze makes glossy drizzle for donuts, cakes, brownies, cookies, and more! Peanut butter lovers will rejoice over this frosting that hardens into gooey sweet and salty glaze.
Get The Recipe
Made from just 4 ingredients, this homemade salted caramel is salty, sweet, and irresistibly buttery. No candy thermometer required!
Get The Recipe
This homemade strawberry sauce is only 3 ingredients, and is the perfect strawberry topping to go on ice cream, cheesecake, pound cake, pancakes, and more! **This post contains references and/or links to products from one
Get The Recipe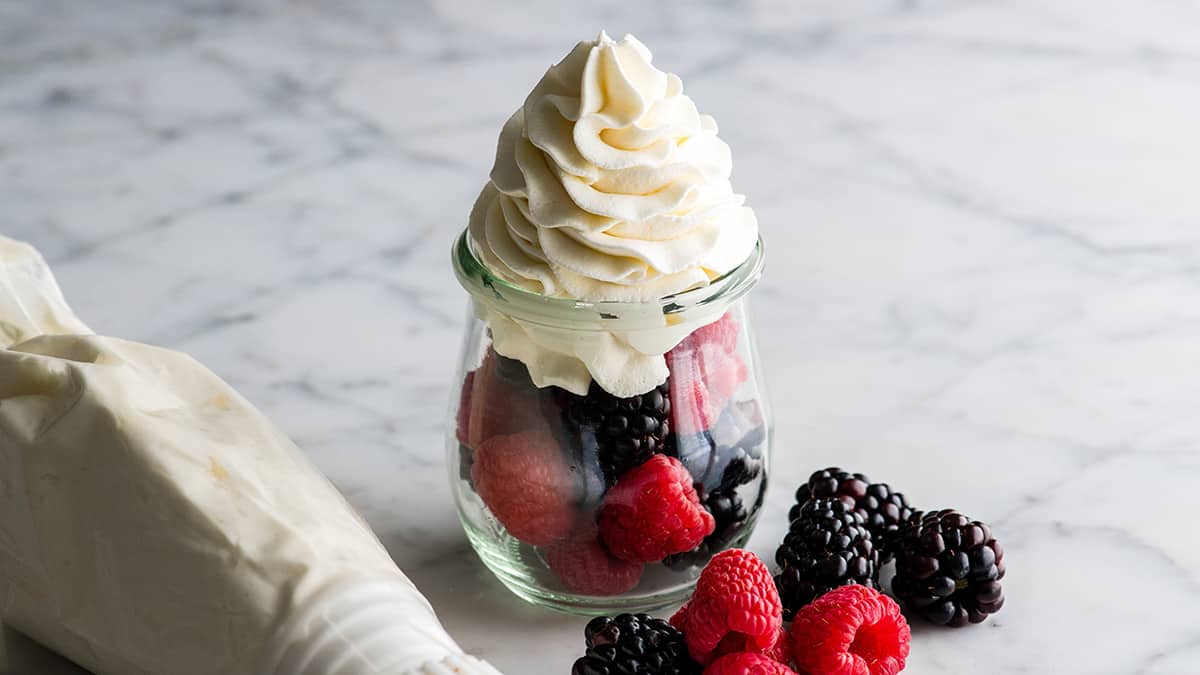 Homemade whipped cream is easy to make with only 3 ingredients in 5 minutes! Watch the video and follow our step-by-step photos to learn how to make the best homemade whipped cream recipe!
Get The Recipe
Let's be friends on Pinterest! I'm always sharing great recipes!
This post contains affiliate links. My opinions are always my own. If you purchase a product through an affiliate link, I make a small commission – at no cost to you. Read full disclosure policy here.